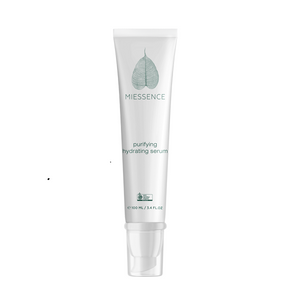 Formally known as Purifying Skin Conditioner
For oily/problem skin types.

Restore your skin's natural balance with Miessence Purifying Hydrating Serum, a balancing infusion with organic echinacea, witch hazel, burdock and plantain and vitamins.

This special combination is known to help tighten and tone the skin while it clarifies and purifies the complexion.

Purpose
Conditioning is a vital step in the Miessence skincare regime.  Conditioning has a twofold purpose: firstly, to feed the skin with nutrients in the water-soluble botanicals, organic herbs, vitamins and essential oils, and secondly, to provide a hydration base for the moisturiser to lock in.

How to Use
On clean moist skin, massage 2 to 3 pumps of conditioner gently onto face, throat and decolletage.
When
Twice daily (am/pm) on cleansed skin.
Important Note:
The Miessence Hydrating Serum and Moisturiser work hand in hand with the cleanser. The conditioner is a vital step in the Miessence skincare regime and has a twofold purpose:
a) To feed the skin with nutrients
b) To provide a hydration base for the moisturiser to lock-in.
To experience maximum benefits apply the Hydrating Serum then apply the Moisturiser while the skin is still damp before the Hydrating Serum dries. This seals in the hydration the Hydrating Serum provides for your skin to keep your skin soft and plump.

Store below 30 ℃ / 86 ℉ and use within 6 months from opening
Ingredients:
Aloe Vera Leaf Juice, Leuconostoc/Radish Root Ferment Filtrate, Sambucus Nigra (Elderberry) Fruit Extract, Purified Water, Burdock Extract, Plantain Extract, Witch Hazel Extract, Echinacea Purpurea Extract, Nettle, Scerotium GumExtract, Sandalwood Essential Oil, Lavender Essential Oil, Calendula Extract, Tea Tree Essential Oil, Lemon Myrtle Essential Oil