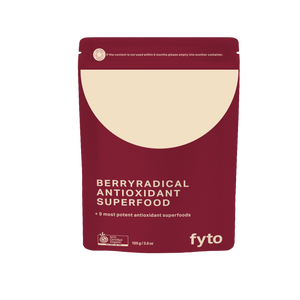 Today's fast-food society and nutrient deficient soils make it difficult, if not impossible, to obtain the quality and concentrations of daily nutrients necessary to positively impact our lives.

Nutritionists tell us we are falling short of our daily nutritional needs. We all want simple daily habits to support and assist us in your desire to live a long, happy, active life!

BerryRadical comes to the rescue with a delicious combination of nine of the world's most potent, antioxidant, superfoods.

This tasty, high potency formulation gives you the antioxidant of equivalent eight servings of fruit and vegetables in every teaspoon.

BerryRadical for children

You can start children at any age on our superfoods. Most of our customers tend to start them at the age of 2 years old. Start on just 1/4 of a teaspoon of each superfood and monitor it from there. You can always increase the serving after a few weeks.

How: Make a delicious beverage by blending Berry Radical with hot water and your choice of milk. Sweeten to taste. Add to your favourite smoothie recipe to supercharge it!
When: One heaped teaspoon serving one or more times per day. BerryRadical can be enjoyed at any time – but especially whenever you need a pick me up.
Serving Size: 3.5g (1 tsp). Servings Per Container: 30.
Ingredients: certified organic raw unrefined cacao powder, dried coffee fruit extract, certified organic sea buckthorn fruit extract, certified organic freeze-dried pomegranate powder, certified organic maqui berry powder, certified organic freeze-dried acai berry powder, certified organic freeze-dried blueberry powder, certified organic freeze-dried raspberry powder, certified organic freeze-dried strawberry powder.

Store in a cool, dark place.
What Are Free Radicals And Why Do We Need Antioxidants?
Oxidation occurs when free radicals (highly reactive, high-energy particles) ricochet wildly throughout the body and damage cells. Free radicals can be produced within the body by natural biological processes or introduced from outside via tobacco smoke, toxins, pollutants and sub-optimal eating habits. Free radicals are believed to accelerate the progression of many diseases. Antioxidants found in fruits and vegetables help to neutralise free radicals in our bodies. *1. *2.

What Are ORAC Units And How Many Do We Need?
ORAC, short for Oxygen Radical Absorbance Capacity, is a standardised measurement of the total antioxidant power of a substance. Antioxidant power is the ability to neutralise oxygen free radicals. The more free radicals a substance can absorb, the higher it's ORAC score. Nutritionists recommend that we consume the 7 servings of fruits and vegetables of per day to significantly impact antioxidant activity in the body and reduce free radical damage.*1. *2.
Seven servings of fruits or vegetables provides approximately 3500 ORAC units. One 3.5g teaspoon serving of Berry Radical contains over 4000 ORAC units! One 105g tub contains 123,375 ORAC units.

1. Department of Health and Family Services. The Australian guide to healthy eating. Canberra: DHFS, 1998.

2. Cashel K, Jeffreson S. The core food groups. Endorsed by the National Health and Medical Research Council. Canberra: Australian Government Publishing Service, 1995;83.