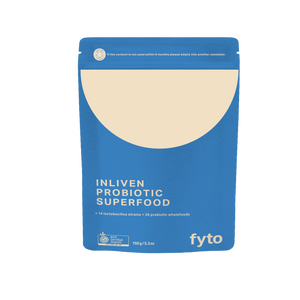 Our digestive system contains a complex bacterial ecosystem.

Some are good and stimulate the immune system and inhibit pathogens, some are bad like salmonella and E.coli that produce toxins.

InLiven Superfood, based on more than 20 years of research, contains the complete Lactobacillus family of 13 strains combined with 26 certified organic whole foods naturally fermented for 3 weeks prior to bottling.

When consumed, the body is able to instantly assimilate the broad spectrum of nutrients.

InLiven uses an especially grown 'super breed' of very strong Lactobacilli designed to reach your digestion tract intact so they can do you the best.

Unlike some other probiotics, the bacteria used by InLiven is produced from fruits and vegetables and not fast-tracked from faecal matter.

InLiven for children

You can start children at any age on our superfoods. Most of our customers tend to start them at the age of 2 years old. Start on just 1/4 of a teaspoon of each superfood and monitor it from there. You can always increase the serving after a few weeks.

Manufactured on equipment that may process Soy, Wheat, Peanut, Tree nut and Sesame.

STORAGE RECOMMENDATION: Once pouch has been received, we recommend either storing it in the fridge or emptying the contents into a reusable storage canister.

How To Use:
Purpose
A healthy intestinal tract should contain at least 85% 'friendly' bacteria to prevent over-colonisation of disease-causing microorganisms which result in a large number of ailments from digestive disorders and painful joint inflammation to susceptibility to colds and flu.
How to Use
Blend with water or juice to make a delicious smoothie or sprinkle on your favourite food.
When to Use
1 teaspoon, 1 to 3 times daily. Serving Size: 3.5g (1 tsp). Servings Per Container: 30.
Ingredients:

certified organic spirulina, certified organic rolled oats, certified organic brown rice, certified organic wheat grain, certified organic barley grain, certified organic linseed, certified organic mung beans, certified organic chick peas, certified organic adzuki beans, certified organic red lentils, certified organic wheat grass, certified organic barley grass, certified organic alfalfa grass, certified organic red kidney beans, certified organic beetroot, certified organic sweet potato, certified organic string beans, certified organic zucchini, certified organic cabbage, certified organic silver beet, certified organic spinach, certified organic chinese cabbage, certified organic asparagus, certified organic broccoli, certified organic malt extract, certified organic molasses, naturally occurring probiotic bacteria and symbiotic yeasts